Lesbian army

Lesbian army porn video

I was really surprised reading this rather illogical title of the site. What the fuck do lesbians have in common with the army? But my surprise changed into extreme excitement as soon as I came in on the Lesbian army guest page. Used to watch glamorous lesbians in sexy lingerie pleasuring their soft holes? As you were, soldier! You`re in the army now! Lesbian army is a fantastic 4 in 1 site offering a nice combination of military training, athletic girls in uniform, lesbian sex and lesbian bdsm content. Sexy young conscripts perform the most exhausting military workouts, follow their sergeants` orders and get punished hard if something goes wrong.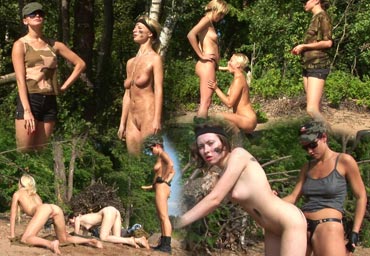 Lesbian army

Inside LesbianArmy
The site looks very user-friendly. The movies`re ranged in chronological order as they appear on Lesbian army. Each video comes with models` ranks and names and a short description of the scene.
All their army lesbian videos come in wmv format abut 20-30 minutes each. Surprisingly the quality`s really nice although the scenes`re shot outdoors (you won`t find any studio footages on LesbianArmy). Updates come every week and never repeat the stories already shown on the site. The movies`re downloadable.
The content is no doubt 100% exclusive and hard. All their army lesbian scenes`re filmed in real combat situations. Nude athletic girls perform hard military workouts like pushups, squattings, steeplechase, crawling, diking etc. To make their tests even more difficult and arousing the soldiers have to do their wild exercises all naked or just in heavy military boots. For the slightest mistakes or disobedience severe lesbian sergeants punish their privates with huge vibrators, giant dildos and strapons.
Unlike many other sites LesbianArmy shows lots of military and sex props. Sexy army lesbians wear real badges and uniform, carry real guns and use real accoutrements during their trainings. When it`s time for their awesome lesbian games or wild punishments they use vibrators, dildos, strapons, large-size tires, ropes and other sex toys and bdsm accessories.
There`s a three-day trial for just 10 bucks. One-month membership amounts to 30 bucks with free access to Nude workout girls as a bonus.
Conclusion
Join Lesbian army to watch young army lesbians in sexy uniform doing exhausting military workouts and getting punished by their dykes-sergeants for the slightest mistakes. Every week you`ll get a new exclusive movie showing lesbian forces` trainings, their severe ordeals of military service and revealing shocking acts of lesbian violence in the army. Membership on LesbianArmy offers you unlimited access to SpecialExercises.com where you can enjoy nude workouts and trainer domination in gyms.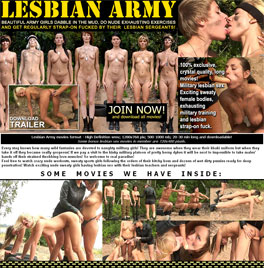 Content quality
9
Content amount
9
Content exclusivity
10
Site design
9
Reviewer bias
8
Updates frequency
8
Purchase value
9
Navigation
10
Extras
8
Trial access
Yes
Multi access
No
Minimum price
$9.95
Rate this site: